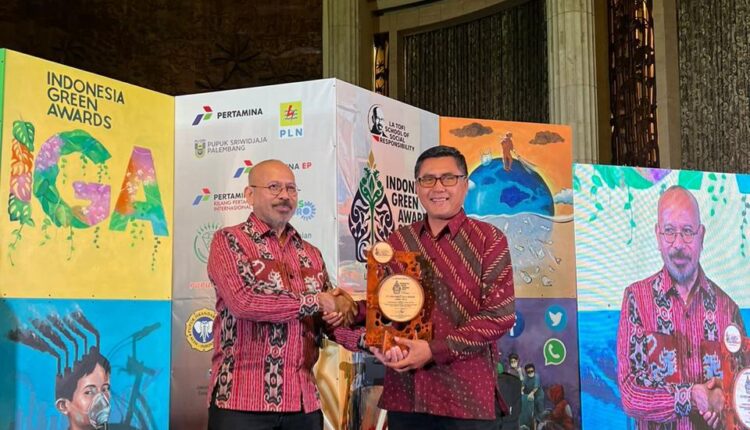 Kontraktor Kontrak Kerja Sama (KKKS) Pertamina EP Jambi Field Raih Penghargaan IGA 2023
Jakarta | Sriwijayaterkini.co.id – Kontraktor Kontrak Kerja Sama (KKKS) Pertamina EP (PEP) Jambi Field yang merupakan bagian dari Subholding Upstream Pertamina, Regional Sumatera, Zona 1, berhasil meraih Penghargaan Indonesia Green Award (IGA) 2023 dalam kategori Pengembangan Pengolahan Sampah Terpadu untuk Program Gerai Energi. Penghargaan yang diselenggarakan oleh La Tofi School of Social Responsibility ini menjadi bukti komitmen PEP Jambi Field dalam melaksanakan program yang berkesinambungan, melibatkan peran aktif komunitas, serta memanfaatkan potensi yang ada di masyarakat dan lingkungan, sehingga mampu meningkatkan kesejahteraan dan mendorong kemandirian masyarakat.
Penghargaan tersebut diserahkan langsung oleh Chairman La Tofi School of Social Responsibility, La Tofi, kepada Head of Comrel & CID Zona 1, Djulianto Tasmat, di Jakarta, pada Rabu (22/2).
Djulianto Tasmat mengatakan keberhasilan ini tidak lepas dari sinergitas antara perusahaan di bawah pengawasan SKK Migas yang telah memberikan persetujuan dalam Work Program and Budget (WP&B) sehingga program ini berjalan dan terealisasi sejak tahun 2022 hingga 2023, pemerintah dan masyarakat sekitar juga menjadi pihak yang terlibat, sehingga program Gerai Energi bisa berjalan dengan baik. "Inisiasi program memang dari kami, namun keberlangsungan kegiatan merupakan kolaborasi bersama dengan pemerintah dan masyarakat yang berkomitmen untuk terus memberikan manfaat yang baik sehingga kedepannya bisa menciptakan masyarakat yang mandiri secara sosial, ekonomi dan juga lingkungan," jelasnya.
Penghargaan ini tentunya menjadi pemicu bagi perusahaan, untuk terus berinovasi melalui program-program yang kreatif dan bermanfaat bagi masyarakat serta terus berkesinambungan dengan tetap mengedepankan aspek lingkungan. Selain itu, program yang dilakukan oleh PEP Jambi Field juga sejalan dengan misi dari IGA Awards, yaitu No Poverty, Net Zero Emission dan Pemulihan Bumi.
Program yang direalisasikan di Kelurahan Kenali Asam Atas, Kota Jambi ini berupa Gerai Energi yakni pengembangan tanaman Hidroponik dan pembuatan Kuliner Kue Kering. Program pengembangan tanaman hidroponik dengan inovasi pengolahan limbah dari sayur sisa panen hidroponik dari Kawasan Gerai Energi Kenali Asam Atas yang biasanya dibuang dengan kapasitas mencapai 10 Kg/bulannya, kini diolah menggunakan alat pengolah kompos, sehingga menghasilkan pupuk cair organik, yang kemudian dimanfaatkan kembali untuk tanaman hidroponik, tanaman toga masyarakat, dan tanaman disekitaran Gerai Energi sebagai pupuk.
Saat ini tim PEP Jambi Field tengah berupaya memberikan kita-kiat dalam mengembangkan penggunaan pupuk cair tersebut sebagai pengganti nutrisi hidroponik untuk nanti disalurkan Kembali kepada Masyarakat Kenali Asam Atas sebagai penerima manfaat program. Ketua Kelompok Tani menyampaikan bahwa program ini sangat bermanfaat bagi masyarakat sekitar "Kegiatan ini sangat membantu kamia, terutama dalam hal mengurangi limbah sisa sayur. Meskipun limbah organik, namun dalam jumlah yang banyak tentunya menyebabkan aroma yang tidak sedap. Namun akhirnya dapat dimanfaatkan Kembali," Ujar Linda.
Selain itu dikatakannya, pupuk cair yang dihasilkan bisa dikembangkan menjadi pupuk organik yang bisa digunakan untuk bibit tanaman yang ada disekitaran Gerai Energi dan kedepannya bisa digunakan sebagai pengganti nutrisi hidroponik, sehingga bisa mengurangi biaya belanja nutrisi.
Kepala Perwakilan SKK Migas Sumbagsel, Anggono Mahendrawan menyampaikan apresiasinya kepada PEP Jambi Field atas penghargaan yang telah diterima. "Harapannya kedepan program-program yang dijalankan untuk memberikan manfaat ini dapat terus dikembangkan sehingga semakin banyak pula pihak dan khususnya masyarakat yang dapat merasakan manfaat dengan adanya kegiatan hulu migas di daerah," ujar Anggono.
Ia juga menyampaikan, selain untuk meraih berbagai penghargaan, pertimbangan utama dari Program Pengembangan Masyarakat oleh KKKS ini adalah apa yang paling bisa memberikan dampak positif sebesar-besarnya kepada masyarakat di sekitar wilayah operasional perusahaan dan daerah
SKK Migas Perwakilan Sumbagsel
Andi Arie P
Kepala Departemen Humas
08117876205
andiarie@skkmigas.go.id
Head of Comrel & CID Zona 1
Djulianto Tasmat
08115450769
Djulianto.tasmat@pertamina.com