Herman Deru Dorong PHRI Tingkatkan Kualitas Pelayanan SDM Perhotelan
PALEMBANG | SriwijayaTerkini.co.id – Keberadaan hotel menjadi salah satu faktor pendorong peningkatan ekonomi di Sumsel.
Hal itu disampaikan Gubernur Sumsel H. Herman Deru ketika Gathering pengurus dan anggota BPD Perhimpunan Hotel dan Restoran Indonesia (PHRI) Sumsel di Hotel Excelton Palembang, Kamis (14/9) petang.
Apalagi, lanjut Herman Deru, hotel merupakan salah satu penyumbang Pendapatan Asli Daerah (PAD) terbesar bagi daerah ini.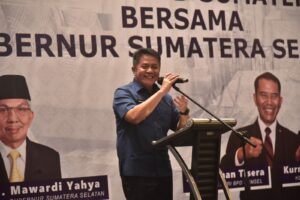 "Kontribusi PHRI Sumsel sangat besar terhadap PAD. Mereka juga telah memberikan pelayanan yang baik untuk para pengunjung. Tentu kita juga harus memberikan take and gift kepada PHRI," kata Herman Deru.
Menurutnya, take and gift yang diberikan bukan berupa dana. Melainkan pelayanan izin yang dipermudah, akses, maupun kegiatan dan pelatihan yang bisa mengembangkan kemampuan Sumber Daya Manusia (SDM).
"Tentu kita juga harus memberikan pelayanan yang sama untuk PHRI. Kita harus mempermudah izin, akses, dan pelatihan kepada SDM sehingga semakin maksimal dalam memberikan pelayanan kepada para pengunjung," jelasnya.
Upaya peningkatan geliat ekonomi diberbagai di sektor, termasuk di sektor jasa hotel memang menjadi sudah menjadi fokus Herman Deru sejak awal kepemimpinannya.
Bahkan, dimasa pandemi covid 19, orang nomor satu di Bumi Sriwijaya ini pun melakukan berbagai upaya agar okupansi hotel itu tetap tumbuh.
Pasalnya sektor jasa perhotelan menjadi salah satu yang terdampak wabah tersebut.
"Covid 19 yang terjadi beberapa waktu lalu, membawa dampak sangat luar biasa bagi okupansi hotel. Kita pun melakukan upaya agar hotel ini bisa tetap berkembang," terangnya.
Berbagi momentum pun dimanfaatkan agar okupansi hotel tidak semakin terpuruk. Salah satunya yakni digelarnya FORNAS ke VI pada tahun 2021 lalu.
"Momentum kita manfaatkan. Seperti halnya FORNAS ke VI. Dampak kegiatan ini pun luar biasa bagi okupansi hotel. Paling tidak kegiatan ini bisa meminimalisir kerugian akibat pandemi," bebernya.
Tidak hanya di Palembang, kegiatan di Kabupaten dan Kota di Sumsel pun juga digelar. Seperti Sriwijaya Ranau Gran Fondo di Kabupaten OKU Selatan dan Sriwijaya Dempo Run di Kota Pagaralam.
"Kita ingin upaya tersebut berkesinabungan yang membawa dampak bagi perkembangan perhotelan," jelasnya.
Dengan terus membaiknya okupansi sektor perhotelan di Sumsel, Herman Deru berharap agar pengusaha perhotelan terus memberikan pelayanan terbaik bagi para pengunjung.
"Kita harus update dengan kebutuhan pengunjung. Hal-hal terkecil pun harus dijaga. Tanggung jawab terhadap nama baik dan terus kedepankan kearifan lokal yang menjadi ciri khas," ujarnya.
Sementara itu, Ketua PHRI Sumsel Kurmin Halim mengatakan, saat ini perkembangan hotel di Sumsel sangat luar biasa.
Bahkan, perkembangan hotel berbintang. hanya terjadi di ibu kota Palembang, tetapi saat ini sudah menyasar ke Kabupaten dan Kota.
"Ini menandakan adanya perkembangan pesat dari bisnis PHRI ini," katanya.
Dia berharap, kedepan perkembangan itu semakin masif terjadi.
"Apalagi Sumsel ini memiliki potensi luar biasa. Hotel dapat menjadi pelengkap ditengah fasilitas daerah yang saat ini ada," tuturnya.
Diketahui, sedikitnya ada 340 orang yang hadir dalam Gathering tersebut.
Hadir pula dalam kesempatan itu, Bendahara PHRI Sumsel Rebo Iskandar Pohan, Owner Excelton Palembang Nova Chandra, Owner Representative Choky Soesilo dan sejumlah anggota PHRI lainnya.